Aloe Vera is a plant in the succulent family that grows wild and has thick, serrated leaves. Aloe Vera is full of vitamins, minerals, and anti-inflammatory compounds hence, it is considered as the superman of the botanical world. 
Aloe vera is one of the oldest plants known to provide many amazing benefits for skin, health, weight loss, and more.
How to extract raw aloe gel from the plant's leaves?
Step-by-step instructions to extract raw aloe gel from the plant's leaves:
Cut off a leaf from the aloe vera plant using a sharp knife
Rinse the leaf and lightly pat dry
Take a bowl with water and place the cut side down immersed in the water for about 15 mins to drain out the yellow aloe vera latex
Press the leaf to help it soften
Cut the outer green layer off and scoop out the gel using a spoon
Wash the gel carefully to clean it of any residue
You can now directly use it on your face or mix with other ingredients and use it as face wash, toner, scrubber, etc.
Simple Ways To Use Aloe Vera For Better Skin
1. Aloe vera for dry skin – Take some aloe vera, a pinch of turmeric, a teaspoon of honey, a teaspoon of milk, and a few drops of rose water. Blend this mix till you get a paste. Apply it and leave in for about 20 minutes or so.
2. Aloe vera scrub – Grab half a cup of fresh aloe vera gel, a cup of sugar, and two tablespoons of lemon juice. The sugar will help exfoliate and scrub off dead skin, the aloe vera will deep clean the skin and the lemon will help fade out scars and tan. Stir the three ingredients together and use it to scrub both face and body.
3. Aloe vera for acne – Take some aloe vera gel, blended walnuts with a flour-like consistency and honey. Aloe vera's healing properties coupled with the anti-oxidants from honey will leave you with smooth and clear skin.
4. Aloe vera for sensitive skin – Grab some aloe vera gel, cucumber juice, yogurt, and rose oil and blend them to a paste. Apply and leave for around 20 minutes, then rinse it off.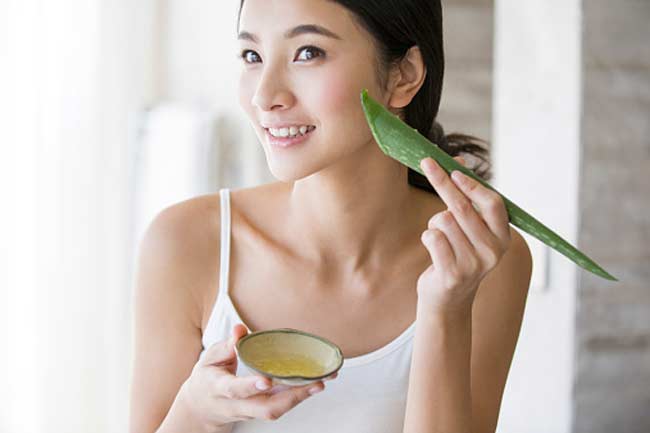 Skin Care Tips from a Consultant Dermatologists: